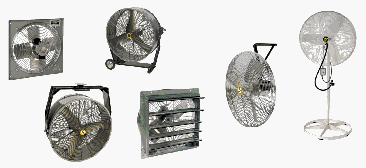 Fans Blowers Ventilation Air Circulators
Airmaster Commercial & Industrial Heavy Duty Grade Ventilating Equipment For The Modern Dairy Industry.
AIRMASTER HEAVY DUTY CIRCULATOR has a 5 year warranty on the FAN & the MOTOR! It does not lose it's efficiency from build-up of dust and dirt on the prop because it is a very unique cast aluminum propeller that is polished so smooth that it is self cleaning.
Ultra Energy Efficient * Very Whisper Quiet